ConFoo 2013
Date: 2013-02-25 – 2013-03-01
Location: Montreal, Quebec, Canada
Language: English
If you have never heard of ConFoo, it is one of the most important developer-oriented conferences. The team brings 100 speakers from around the globe to share their hands-on experience with various web technologies. The best news is: it's driven by the community and is non profit!
1h presentations cover: PostgreSQL, MySQL, MongoDB, Neo4j, PHP, JavaScript, Ruby, Python, .NET, Java, e-Commerce, Security, Mobile, UX and other topics. The schedule is quite impressive. We also have hands-on training and a hackaton in the two days before the main event. Watch out video.
The event is at the Hilton Bonaventure Montreal, from February 27th to March 1st. Tickets are sold online.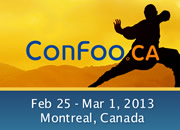 Posted by ConFoo (board@confoo.ca).
Note: The PostgreSQL Global Development Group does not endorse any events run by third parties. No guarantee of the quality of events is offered whatsoever.