Hi all!

I have been absent to finish my uni degree. Now I am fully back at work 
and make heavy use of pgAdmin again, which inevitably leads to bug 
reports ...

Running pgAdmin 1.10.1 (Dec 3 2009, rev: 8025:8026M) on Win XP. Server: 
pg 8.4.1 on Debian Lenny.
I think there is a glitch in the sequence properties dialog:

I tried to change a run-of-the-mill sequence, so that it gives negative 
values. Could not be done with the properties dialog.
"Value of START cannot be greater than  MAXVALUE" - but the properties 
dialog does not provide a field for START. Users are out of luck, has to 
be done with SQL.
Screenshot attached.

START-value is also missing in the "Property" pane. The SQL pane, on the 
other hand, includes the START clause just fine. It was introduced with 
pg 8.4.


Regards
Erwin


P.S.: Other than that, v1.10.1 works just fine so far.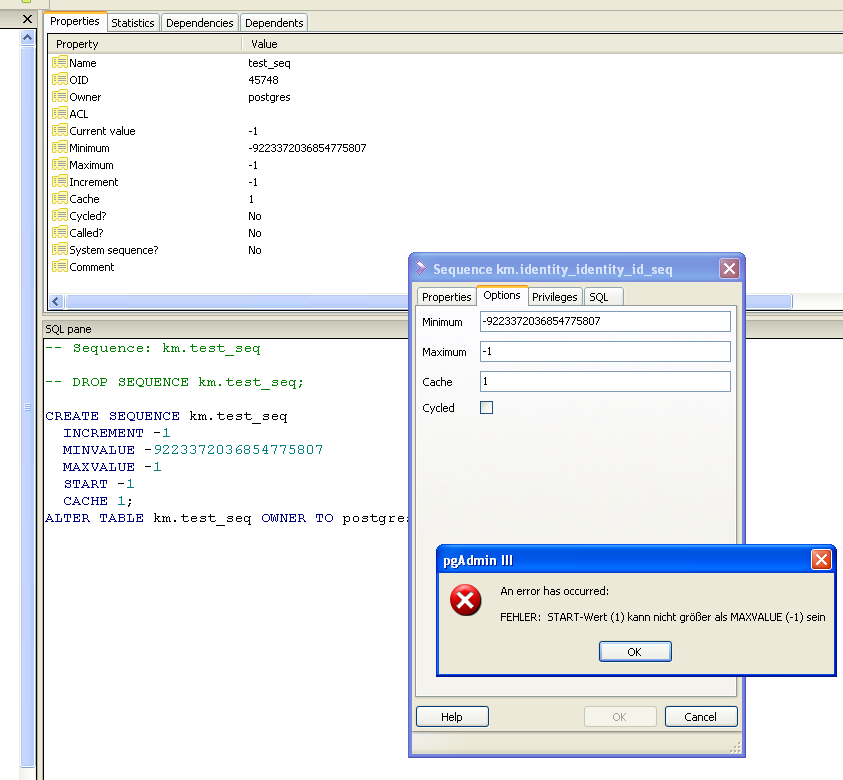 ---
Attachment: seq_start.png
Description: image/png (38.8 KB) (inlined above)
Responses
pgadmin-hackers by date
Next:
From: Dave Page
Date: 2009-12-10 14:22:26
Subject: Re: pgAdmin3 icon
Previous:
From: Guillaume Lelarge
Date: 2009-12-09 14:33:47
Subject: Re: pgAdmin3 icon