Peter Harvey wrote:
> 
> Anyone know how inherited tables are shown on an ERD... both the table
> and the connector (if any)?
> 
> What I am looking for is how to draw this in the diagram.

An old S-Designor does it so: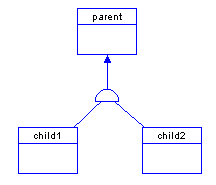 ---
Attachment: inherit.gif
Description: image/gif (928 bytes) (inlined above)
In response to
Responses
pgsql-hackers by date
Next:
From: D'Arcy J.M. Cain
Date: 2001-09-06 12:18:48
Subject: Re: CVS access
Previous:
From: Peter Eisentraut
Date: 2001-09-06 10:21:58
Subject: Re: Bug in createlang?